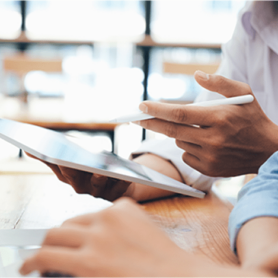 Expert partner to manage your clinical trial:
At Alimentiv, our Clinical Project Directors, Project Managers, Coordinators and Specialists are experienced professionals trained to deliver superior service to our clients. Their collaborative approach combined with deep therapeutic expertise, exceptional organizational and interpersonal skills creates a responsive, client-driven framework for success.
---
Feasibility Assessment
Early feasibility assessment is a complex but valuable process, employing Alimentiv's expert insights (medical, operations, biostats, regulatory, laboratory) to significantly heighten the reliability of planning decisions for your clinical study.
Scientific & Safety Review
Alimentiv's multi-disciplinary team of experts provides scientific, statistical and safety assessment of your proposed study and delivers recommendations that improve your protocol and optimize site selection, patient recruitment, patient safety and study timeline decisions.
Efficacy & Safety Assessments, considering standard medical practice, regulatory requirements and marketing objectives:
Standard disease-specific efficacy assessments
Objective measures such as imaging, histopathology
Patient-reported outcomes and quality of life measures
Incorporating precision medicine
Data Safety Monitoring recommendations
Eligibility Considerations:
Target population
Patient safety profile
Concomitant disease
Previous and concomitant therapies
Site Feasibility, Qualification, and Selection
At Alimentiv, we leverage our long-standing global network of top-tier GI investigator to identify, quality and select the sites that can achieve recruitment goals and deliver high-quality data for your study.
Examples of some of the services we offer:
Preliminary site lists for consideration
Feasibility questionnaire development, dissemination, and management
Site qualification visits and final selection
Operational Review
We know how to what it takes to implement GI studies that deliver quality results. Assessing study risks, optimizing protocol design, selecting the appropriate countries, sites and patient population are key to achieving your project goals. With our experience over the past 34 years, managing more than 150 studies in over 60 countries, Alimentiv is well positioned to assist setting your study up for success.
Operational Considerations:
Disease under treatment – subtype, severity
Competing trials at country and site levels
Regulatory and country-specific considerations: existing approved treatments, regulatory timelines & requirements
Product specifications: route, frequency, site requirements
Financial considerations
Vendor qualification, selection, management
---
Project Planning
Our Project Managers have extensive experience planning all facets of clinical trials from during study start-up activities. Utilizing proven methodologies and existing templates, all planning activities are meticulously tailored to meet Sponsor needs in order to ensure seamless management of clinical studies.
Risk Assessment
As part of our innovative Risk Based Quality Management approach, we establish study risks in the early stages of the clinical trial by gathering risk information from cross-functional leads to establish a comprehensive risk registry.
The risk registry is then used to inform trial planning including:
Early input for protocol development
Definition and documentation of mitigation strategies in collaboration with the Sponsor
Remote & central monitoring strategies
Our holistic approach drives proactive study planning in each functional area of the study team.
Cross-Functional Expertise:
By ensuring cross functional leads participating in risk identification activities in the early phase of the clinical trial, critical risk mitigations are identified to safeguard the quality of the trial and safety of the participants.
Recruitment Strategy
At Alimentiv, we pride ourselves on our years of IBD as well as our longstanding global relationships with IBD professionals. Using comprehensive recruitment models and templates during start-up and throughout the life of a clinical trial, we leverage our expertise to work with sites on realistic and achievable recruitment plans based on proven strategies that ensure successful recruitment.
Customizable Approach
At Alimentiv, we employ the use of established recruitment models to serve as the basis of our recruitment strategy. By coupling our strategies with customized features based on Sponsor requirements, we create recruitment models that deliver.
Project Plan Development
A robust project plan is based on a comprehensive understanding of study requirements established in the early stages of the study planning phase. Applying our expertise with industry standard project management methodologies, we work closely with the sponsor to design project plans that meet the unique needs of their study.
Examples of some of our Project Plans:
Communications plan (incl. Roles and Responsibility Matrices)
Deviation Plan
Integrated Strategic Monitoring Plan
Data Management Plan
Risk Management Plan
Regulatory Submissions Plan
---
Project Execution and Control
Center of Communication and Coordination
Clinical Study Management (CSM) is responsible for the coordination of all activities from all functional groups contracted for a project. They serve as the central portal for communication flow and accountability for the completion of tasks across the project. CSM will coordinate overall study timelines and manage these as the study progresses.
Project Oversight
As the primary point of accountability for end-to-end study delivery CSM provides ongoing review and management of project plans and Work Instructions, risk assessments, mitigations, training needs, timelines, contracts and study resources.
We have capable leaders who partner with empowered cross-functional teams to establish clear accountability for assigned tasks.
The risk registry is then used to inform trial planning including:
Early input for protocol development
Definition and documentation of mitigation strategies in collaboration with the Sponsor
Remote & central monitoring strategies
Our holistic approach drives proactive study planning in each functional area of the study team.
Project
Tracking
Ongoing monitoring of study activities using a standard suite of tools and systems
Production of ongoing study status reports customized to client needs.
Vendor Management
Experienced with all vendor types required to conduct a trial, including IXRS to county-level depots, PRO providers and central laboratories.
Vendor assessments.
Vendor oversight based on clear service level agreements and Key Performance Indicators.
Study
Training
FAQ documents, medical representation at study meetings, tracking in e-training system for Alimentiv staff, managing compliance of all assigned team members to training plan.
Project Communication
Effective and timely communication is critical to achieving study objectives. We pride ourselves is our ability to build strong, transparent communication channels with our clients, study team, vendors and other stakeholders. We agree clear guidelines upfront for how information will be shared, as well as who's responsible for and needs to be looped in on each project communication.Provides a commitment to strategic and innovative thinking in partnership with clients for oversight, recruitment strategies, management of risk, quality.
Ancillary Services
In-house services or in collaboration with client or vendor, including Investigator Meeting planning & management, vendor and site payments, provision of study supplies
Risk Management
Risk Based Quality Management (RBQM) approach to monitoring of site activity, supported by a Project Management and Monitoring team experienced in IBD
Contract Management
Measure performance to contract. Management of ongoing tasks, identifying timeline drift, out of scope activities, change order management.
Project Timelines
Comprehensive oversight of all functional tasks and their interrelatedness. Ensuring accountability for tasks and timely completion. Measure performance to contract.
Data Monitoring Committee
Measure performance to contract. Management of ongoing Reviews Managing DMC, DSMB or SSC to deliver key data that enable downstream decisions for clients.
---
Quality Assurance
Alimentiv is committed to delivering quality clinical research services in a professional, efficient, timely, and cost-effective manner while protecting patient safety and data integrity for regulatory submissions. We do this using a Quality Management System (QMS) designed to meet applicable global regulatory, technical and organizational requirements, as well as industry standards.
Trial Master File Management
Alimentiv's TMF Operations team produces a Trial Master File that supports the science behind the study.
We know the TMF is critical in demonstrating subject safety and data integrity throughout the study lifecycle. Alimentiv is a proud partner of Veeva Vault eTMF to deliver top-end active TMF management. Our TMF framework is structured using the guidelines and standards set forth by ICH-GCP and global regulatory agencies and the TMF reference model. We go beyond the basics to ensure your TMF is a cohesive, inspection-ready study package.